We provide CAD Drafting, CAD Outsourcing Services, AutoCAD Architectural Drafting Services and other Mechanical CAD Drafting services.









Latest News/Updates

PDF to DWG Conversion
VMD CAD
converts your
PDF files to AutoCAD (DWG)
format an
d AutoCAD to PDF
. Accommodating your layering standards, our manual PDF to DWG conversions are fully editable, multi-layer and 100% dimensionally accurate. The
PDF file format
has been recognized as an acceptable way to share information when there is no longer a need to edit that information.
But the PDF files are not easily editable especially if you want to edit them layer-by-layer. Solution: We can convert the PDF files to DWG according to your needs! We can convert your
PDF to DWG
and
PDF to CAD
documents, without hampering your data.
PDF to AutoCAD conversions
are vectorized artworks that are scalable and do not get pixilated as you zoom into the image. These DWG files can be used in any size and for many purposes. They can be used for websites, brochures and catalogues. Scaling does not affect the quality or clarity of work, as they are high in resolution.
This is not possible when images are converted with the help of software (as the images are simply scanned and converted), but with the use of our manual vectorization techniques we can convert your images into scalable vectorized artwork.
Get in touch with us now for
PDF to AutoCAD conversion
and
AutoCAD to PDF conversio
n services.

Sample Project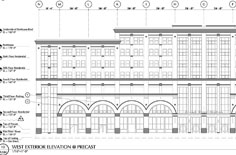 Our CAD Outsourcing Services