We provide CAD Drafting, CAD Outsourcing Services, AutoCAD Architectural Drafting Services and other Mechanical CAD Drafting services.









Latest News/Updates

Microstation Conversion
Our
DGN (MicroStation) conversion services
are the one stop solution to just about any CAD problem. Our expert draftsmen and engineers use a combination of both manual and software assisted techniques to make your
DGN conversions
error free and 99.99% accurate.
VMD CAD Conversion will give you the best
DGN (MicroStation) conversion
,
Microstation to AutoCAD and DGN to CAD
format conversions at very competitive prices.
We claim to be different!
Because hundreds of clients have demanded our high quality, error-free
Microstation conversion
servcies it has resulted in increased productivity, improved client relations and an overall improvement in their business. We assure you of error-free,
You can email, fax or send-in your documents with just a click.

Sample Project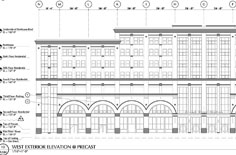 Our CAD Outsourcing Services
| CAD drafting
| 2D and 3D modeling
| CAD drawing
| Raster to vector conversion
| Architectural CAD drafting and designing
| MCD to DWG Conversion
| Mechanical Drafting
|

Electrical Drawings