We provide CAD Drafting, CAD Outsourcing Services, AutoCAD Architectural Drafting Services and other Mechanical CAD Drafting services.









Latest News/Updates

VectorWorks to AutoCAD - MCD to DWG Conversion
VMD CAD Conversion
offers you
VectorWorks to AutoCAD or MCD to DWG
conversion and vice-versa, enabling you to access and edit DWG files in MCD format. Our experienced team of drafters provides you with error-free and accurate MCD to DWG conversions. We will provide you with CAD files in any format and can convert all your MCD files to DWG.
For example, we can transform your CAD files from any version of DWG (AutoCAD 2007, AutoCAD 2006, AutoCAD 2005, AutoCAD 2004, AutoCAD 2002, AutoCAD 2000i, AutoCAD 2000 and older versions) to any version of MCD (VectorWorks 8, VectorWorks 8.5, VectorWorks 9, VectorWorks 9.5, VectorWorks 10, VectorWorks 10.5, VectorWorks 11, VectorWorks 11.5, VectorWorks 12, VectorWorks 12.5 and older versions).
VMD CAD Conversion's
final output always conforms to the dimensions specified by our clients. Moreover, the transformed files can be provided within the same day or overnight.
Send us your
MCD or DWG
files via FTP, fax, email or through discs and we will process them, and have them sent back to you overnight or as soon as you need them, without any extra charges.
Get in touch with us now to
convert MCD to DWG
or
VectorWorks to AutoCAD
.

Sample Project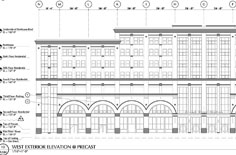 Our CAD Outsourcing Services
| CAD drafting
| 2D and 3D modeling
| CAD drawing
| Raster to vector conversion
| Architectural CAD drafting and designing
| MCD to DWG Conversion
| Mechanical Drafting
|

Electrical Drawings